Selma Jackson, Board Advisor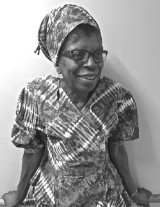 Selma Jackson is a New Yorker through and through. Born and raised in the Bronx, Selma Jackson was educated through the New York City Public School System and then continued her education at Hunter College where she received both her Bachelors and Masters degrees. She also studied at Long Island University, has been a Revson Fellow (2008-2009) and is a 2017 Blue Ridge Labs Fellow, a program of Robin Hood Foundation. In her professional life, Selma worked in the corporate field as a bank manager for one of the largest banking systems and as the manager of a not-for-profit. As an educator, Ms. Jackson has served as an adjunct professor and she also taught in the public school system. Selma's business and financial acumen, and her eye for talent led her to open her own business, which she ran for many years in the Fort Greene section of Brooklyn. Ahead of her time, her business was more than just a business enterprise, it was a gathering place and platform for new and emerging artists and provided an assembly for local politicians and faith-based and community activists.
Culturally and politically astute, Selma is a dedicated community activist and humanitarian who's work through missions has allowed her to support communities in Rwanda, Sierra Leone, Ghana, the Dominican Republic, Belize and stateside. She has also traveled extensively for her own enjoyment, exploration and cultural awareness and sharing. Selma is an avid supporter of theatre and the performing arts and a jazz enthusiast and has seen many of the greats on stage during her life time.
Currently, Selma dedicates her time to working with church governance through the Presbyterian Church of the USA. She has also recently added the title of "author" to her list of many accomplishments and published her second children's book, "My Birthday Surprise" in 2017. But her most treasured titles are being mother to Reginald and grandmother to Emani, Jourdan and Jhamal.