Julian Asion, Creative Advisor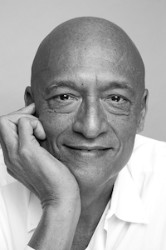 Julian Asion, Creative Advisor After nearly four-decades collaborating with designers to bring their visions to fruition, Asion is poised to give back to the field by inspiring a new generation of emerging fabric artisans and designers in Harlem. Born in Cuba and a New Yorker by choice, Asion's depth and breadth of experience working with the fashion industry, New York theater and the world's leading design firms brings new levels of energy and expertise to the SoHarlem team.
Asion has mastered the art of being the first hands that make an idea become a reality. In recent years, he was first pattern maker for Jason Wu and Narciso Rodriquez and worked with Isabel Toledo on outfits for First Lady Michele Obama, The Duchess of Alba, and the cast of the Broadway production of "After Midnight." His credits include Calvin Klein Fall 2010 Collection; Isabel Toledo's Spring/Summer Project for the Swiss Embassy; and pattern making for the designs of Cynthia Steffe and Zac Posen, featured in NYC Fashion Week, the Academy Awards and the Zac Posen Paris retrospective.
A consultant to Marc Jacobs, Ralph Rucci, Donna Karan, and Rebecca Taylor, Asion is a former Patternmaker/Designer for En Francais, New York where he produced over twenty-two lines for Saks Fifth Avenue, Neiman Marcus, Bloomingdales, and specialty stores such as Cachet. For Albert Nipon, Asion developed first sample production for runway shows based on drawings, photographs and the designer's personal vision. Early in his career, Asion organized samples for shows and stock, from pattern to production, for Arthur McGee. As Assistant Designer to Marion Magged, he supervised beading, button work, embroidery, and yardage in the United States, Haiti and India.
Fluent in Spanish, Julian Asion speaks sample room Italian and Cantonese. An independent designer in his own right, his line of evening dresses marketed under the Julian Asion label have been worn by high-end clients that include Lena Horne, Cicely Tyson, Leslie Gore, Debbie Mazar, and Princess Anne Sidamon-Eristoff.
Asion recently joined the staff of the new staff of the newly established, Miami Fashion Institute at Miami Dade College which will be ushering in the next generation of the Miami Fashion Industry.